Fail To Follow up, Fail To Make Sales
Most rural reps I meet fail to follow up. Yet research shows the final 8-12 interactions is where 80% of all sales are made.
This means if you or your rural sales team are failing to follow up, you're failing to make more sales.
The reason why the majority of rural reps fail to follow up is because of a fear of rejection.
They don't like to hear no.
The problem is if you don't want to wait for a no, you want a no early and upfront because time is all you have.
You want to follow up and qualify if the prospect is a fit fast. If not you are free'd up to follow up with other better-fitting prospects.
As the sales legend Brian Tracy said:
"The fastest way to make more sales is to spend more time with better prospects."
The other problem I see in follow-ups is when rural reps are trying to sell – instead of serve – contradictory as it sounds.
"I'm just following up on the proposal/quote I sent you…"
Stop saying this as it makes you sound like another desperate, salesey sales person.
It clearly signals you're there to serve your needs (a sale) rather than their own (having their specific problem properly understood and solved).
When you say things like this your rural customer will close off and shut shop because it doesn't make them feel safe.
They won't feel in control so they will protect themselves from the perceived risk and loss of purchase (especially big ones!).
The best way to follow up is to get your farming prospect to engage in a dialogue, not a monologue.
You want them to get them into a conversation that with the right questions and curiousity which can then lead to a successful sale.
You need to demonstrate you are thinking of them by adding value each and every time you follow up.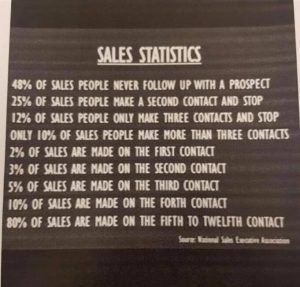 You need to mix up your media and messages as you can't bore or bludgeon your buyer into buying.
Forget being ghosted or forgotten about.
Have a genuine duty of care and sincerity of intent.
Show them how you think and how you're different.
That's how you'll make more sales.
P.S. Would you like a copy of Follow Up Formula worksheet? Hit me up with a message and I'll get the free PDF link to you.